Creative Interventions for Children of Divorce
By
Liana Lowenstein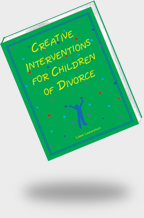 An innovative collection of therapeutic games, art techniques, and stories to help children of divorce express feelings, deal with loyalty binds, disengage from parental conflict, address anger and self-blame, and learn coping strategies. Includes a theoretical overview for practitioners, a sample treatment plan, and a reproducible handout to give parents. Also contains a ten-week curriculum that can be used in therapy or support groups. A much needed resource for counselors, therapists, and group facilitators.
Testimonials
"What a delightful collection of exercises. I will certainly recommend it to therapists in this line of work."
—- Richard A. Warshak, Ph.D.
Author of Divorce Poison: Protecting the Parent-Child Bond From a Vindictive Ex.
"Ms. Lowenstein has developed an informative resource that includes both creative and practical techniques for use with children experiencing divorce. This book is now a part of my professional library and I will use it often!"
—-Teri V. Krull, LCSW, LLC, RPT-S
Board Certified Diplomate, Past President of the Association for Play Therapy
"Creative Interventions for Children of Divorce broadens the scope of engaging and relevant therapeutic tools for clinicians working with children of separation/divorce. This manual effectively integrates theory and creative technique in working with this population of children. It is a valuable asset to both the novice and experienced clinician."
—-Dr. Helen Radovanovic, C.Psych.
"Here is a wonderful collection of practical, creative activities to add to your repertoire of exercises when working with children of divorce. It provides pick-and-choose solutions for a variety of children's situations."
—-Vicki Lansky
Author of Divorce Book for Parents and It's Not Your Fault KoKo Bear
Includes reproducible worksheets, sample forms, Handouts and a Questionnaire for Caregivers
2006, 175 Pages, Paperback
ISBN 978-0-9685199-3-6

[Back to Order form]